Lowe's: Future Proofing & Service Design
The Ask
Position Lowe's as the go-to destination for smart home tech.
The Smart Home Tech Market
To be the go-to destination for smart home tech, we first needed to understand where the product is in its lifecycle.
Currently, Smart Home technology is stuck in The Chasm.
It has been embraced by early adopter tech-enthusiasts, but it hasn't quite won over the early majority home owners.
Objective
We set out to identify what is causing Smart Home tech from making the leap to the mass market and how Lowe's can play a role in bridging the gap.
Qualitative Research
We conducted interviews with people in the early majority* to understand the barriers to adopting Smart Home tech.
*Screener: We defined the early majority as "home owners who have already showed interested in smart home technology by purchasing an Alexa/Google home."
"I think smart home tech is useful,but I'm not a techie. I wouldn't know what to do. "
There is inherent value in the products, but consumers hesitate to make a purchase assuming they lack the skills or knowledge to install and integrate it.
"IOT makes setting it up a hassle. Somehow, something always goes wrong."
With the introduction of the Internet of Things (IOT) and the configuration that's needed to set up the products, people feel a loss of control in determining the success of the project.
"I want to add more capabilities, but I don't know which products work with which."
Consumers are interested in adding new smart home products to their Alexa devices, but find the integration of those products into a larger home ecosystem to be confusing and complex.
Consumer Tension
The Early Majority sees value in the benefits of owning Smart Home Tech, but the chasm exists because of the hassle it takes to get Smart Home Tech up and running.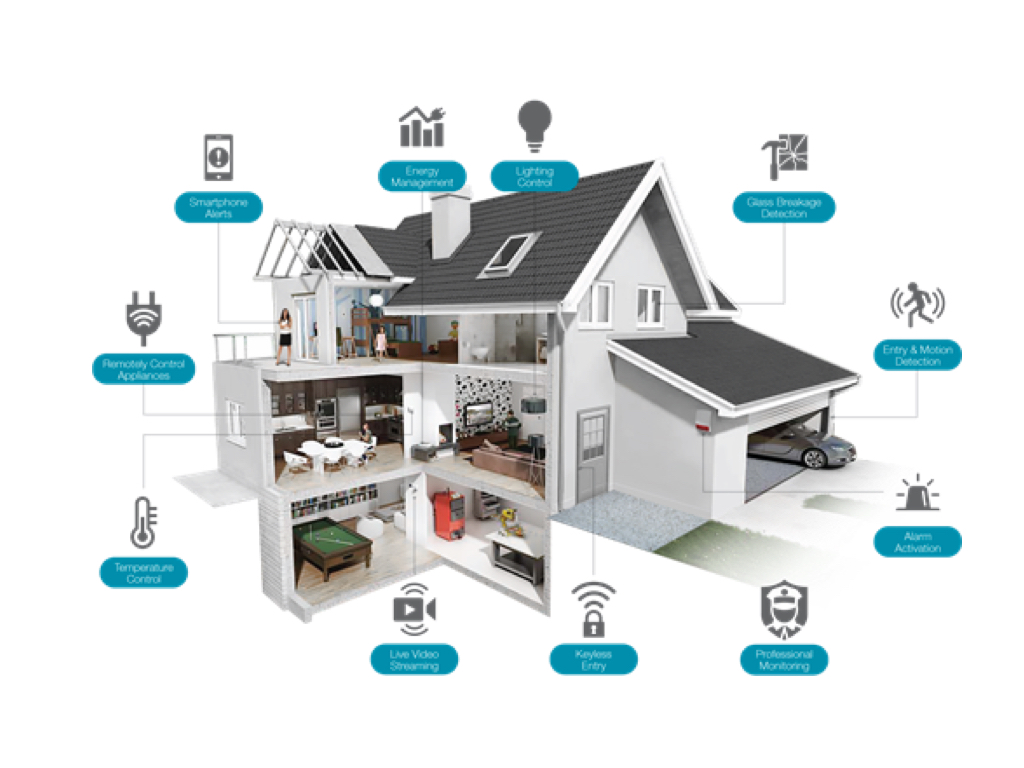 The home of the future is a smart home.
The work of running the home will gradually become automized with smart technology entering every corner of the house over the next decade, leaving "un-techie" homeowners with the headaches, and software updates, that come with a connected life.
Growth Opportunity
Lowe's is the authority in manual home projects, but it currently does not have the credibility in the tech space that is needed to alleviate consumer's concerns and confusion.
Lowe's needs to build out its technical expertise and support in order to be the one stop shop for both manual and technical projects.
Service Strategy
Previously Lowe's has just stood for helping you work on your home. But now Lowe's can also,
Make your home work for you.
Solution
Not an advertising, but a service solve.
Smart Home tech companies will continue to communicate the rational and emotional benefits of their smart home devices so, as a retailer, Lowe's does not need to play this role.
Instead, Lowe's can build out its Smart Home technical expertise and capitalize on consumer's passivity by leading with service.
Solution:
Introducing Home Crew, a monthly,on-demand professional subscription service by Lowe's. Home Crew offers an elite force of smart home installers and consultants who ensure your home works for you.
Installations, configurations, maintenance, and consultations will no longer be the consumers concern. All they will have to decide is what kind of home they want to be running.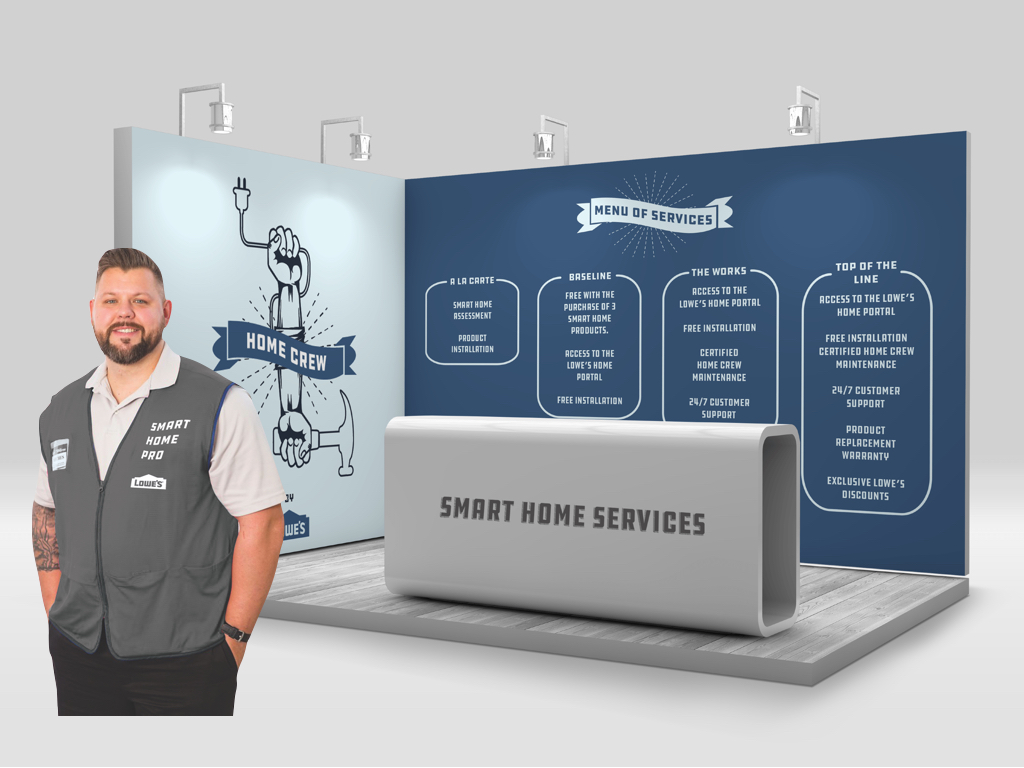 A Home Crew agent will be present in Lowe's to provide education, inspiration, and help set user goals in order to recommend the right smart home products and ecosystems based on the home you want to be running.
Both In-store and online, a Home Crew agent can be booked for home installations or to provide mobile support throughout the installation/ configuration process.
Home Crew subscribers will have a Home Crew agent on call for routine maintenance and trouble shooting as well as ecosystem upgrades.
Service Design:
The design objective was to provide a world-class, scaleable service that breaks down barriers to purchase by eliminating the pain points surrounding installation, maintenance, and ecosystem integration while seamlessly blending home and tech.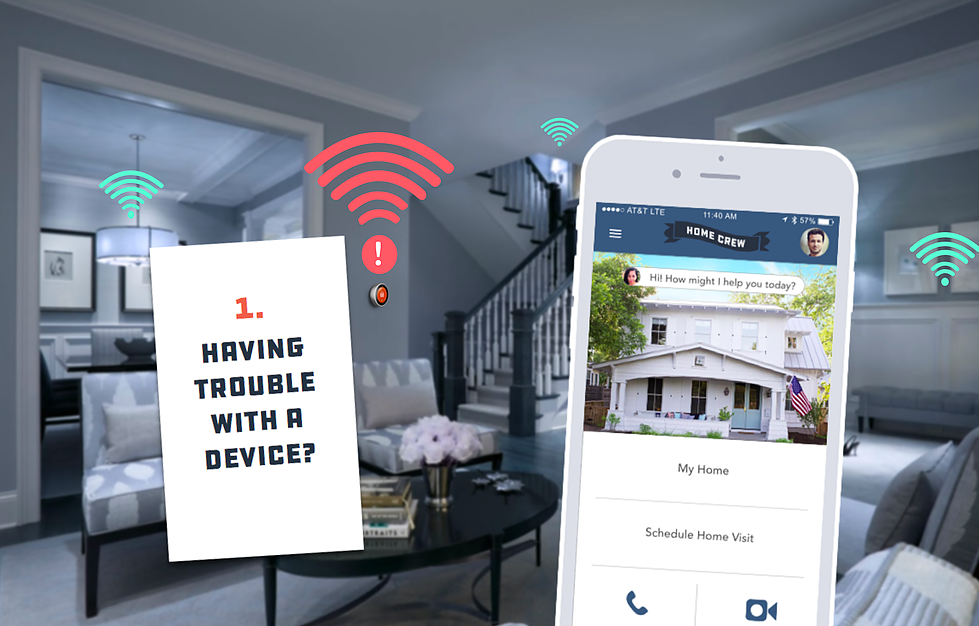 Further blending the manual and technical home improvement projects, subscribers can also add Lowe's items to be delivered during their Home Crew visit. This saves subscribers a bit of time and creates a new revenue stream for Lowe's.
Competitive Analysis
Tech companies have also identified service as the next opportunity in the adoption of Smart Home tech, but Lowe's can differentiate itself by leveraging its 2, 370 mortar stores, and it's existing relationship with home improvers and renovation projects.
KPIs
The addition of the in-store Home Crew Agent will be measured against the net increase in Smart Home technology sales in store.

The addition of the Home Crew service team will be measured against Lowe's Net Promoter Score.

The success of the service plan will be measured against the direct revenue from service and number of monthly subscribers.
What I loved about this project
Questioning the initial ask to identify the larger problem behind Smart Home tech adoption.
Conducting interviews and synthesizing the information into actionable learning.
Using the design thinking process to translate research into a human centric service.